[Secret]15 WhatsApp Tricks 2017 - You Don't Know - Mission Techal
H
ello Friends, I recently post 15 Common WhatsApp Tricks 2017 - You Don't Know and your love for this post force me to again post another post for whatsapp secret tricks and I personally think that you love this one also, without wasting your time,
Let's start...
» WhatsApp Security(Video Tutorial)
» 15 WhatsApp Tricks
1.Use Whatsapp Without Updating:
Sometimes we do not have enough data, slow internet speed or not enough ram to update although it provides 30 days to the user to update it. Follow given steps
Close it properly does not minimize if you don't close this you will get a notification of adjusting your date and time. so close it properly.
Now change data to use an outdated version. Change date to past 2-3 days from present date.
On changing date, you can see I am able to use WhatsApp without any problem.
Disadvantages: It can be a big problem by changing your time.
Apps like opera mini and candy crush games will not work properly by changing date and time. So I suggest you update WhatsApp as soon possible.


2.Send Messages To Yourself:
Are you thinking this is crazy to send a message to me but not, in reality, here are some benefits. You can save an important message, video, photo or any other data.
You can see your own DP (Display profile) but without status. Transfer data between the computer and mobile phone.
How to chat:
First of all, save your own mobile number anywhere phone, email, sim etc.
Now turn on your internet connection.
After that open whatsapp→contacts and refresh your contacts once it refreshed it will sync data from your recently saved number which you saved in the first step.
You will not find yourself in WhatsApp contacts so open contacts app and open your contact which you saved in the first step.
As you can see in the screenshot blow the number have an option for the message Click on it.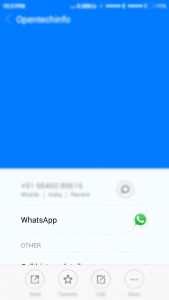 If no option doesn't worry than click on message icon and chose WhatsApp messenger.
3.Restore Deleted Media Files:
Sometimes we delete some WhatsApp without backup. Message backup will automatically save in database folder and you can manually backup at any time but using following steps you can also recover media files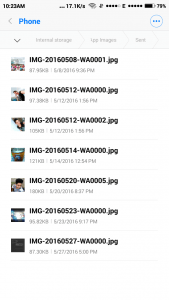 For photos go to whastapp→Media→Whatsapp images→sent same for video Media→Whatsapp video→sent These are only those which send by yourself.
5.Stop Receiving Notifications
Sometime thousand message coming in a minute and our is slow down for bypassing that go to Settings→app→whatsapp and unclick your notification.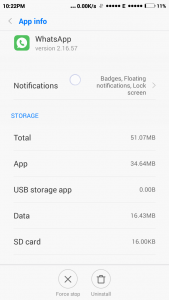 6.Read All Message At Once:
Mainly in India where people make many groups just for sending entertainment videos, photos etc . In that case, you can read all messages at once using the mark as read option. Select your chats open menu from sidebar go to more and choose mark as read option.
style="background-color: white; border: 0px; font-family: inherit; font-size: inherit; font-stretch: inherit; font-style: inherit; font-variant: inherit; line-height: inherit; margin: 0px; padding: 0px; vertical-align: baseline;">


7.Reply Without Opening Screen Lock:
For this trick, you have to change some settings on your android phone go to WhatsApp settings→notifications and change popup notification to only when screen is "on".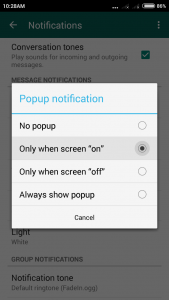 8.Hide Photos To Show Gallery:
Sometimes our all photos and video are not good to show someone or in or we want to hide all content from the gallery. For this just rename your photo and video folder place . Before starting the name e.x. .whatsapp Images To gain images again chose menu in file manager and click on show hidden folders. you can also hide photos using Private Photo Vault app.
9.Draw Emoji, Write And Paint Your Photos:
If you take photos from WhatsApp camera when you can draw emoji, write and paint by brush your photos Here is how to
open camera using WhatsApp open chat with any person and click on the attachment to choose the camera as shown in the screenshot.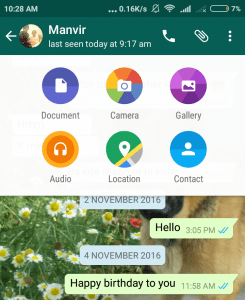 Now it is time to take an awesome picture.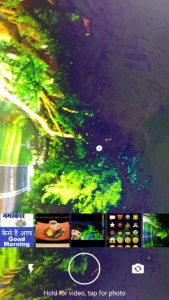 After taking the picture you can edit icons as shown in the screenshot.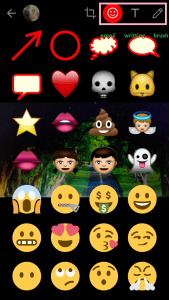 10.Compress Photo And Videos:
This is one of my favorite tricks Maybe you don't know but WhatsApp compress photos and videos for better speed here I also add a proof of this to use this feature you have to dual use dual WhatsApp using parallel space.
Send photo videos from one number to another
Download it from second account
Your task complete, see the size of photo as given in screenshot I send 223 kb image which will become to 85 kb after sending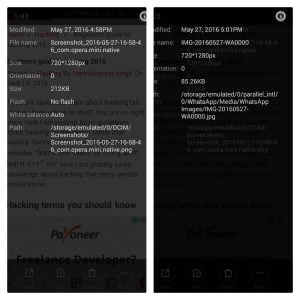 Note: If you don't want to use dual WhatsApp then send it to your friend and say him to send you again.
11.Change Name And Icon:
Using icon changer free you can change Name and icon of any app. It will allow you design icon, change icon and name.
[Also Read: How To Change App's Name Or Icon Without Root]
12.WhatsApp App(Official) For PC:
I am not talking about bluestacks. which allow you to run android apps on your computer. Actually, WhatsApp made software for desktop user it is available for both window and Mac users. You can download it free from the official site .No difference between using URL web.whatsapp.com or this app.
13.Get latest WhatsApp Status:
With the help of Latest 2017 WhatsApp Status you can download trending WhatsApp status hike daily also send beautiful quotes which can be used as the WhatsApp status but for that you need to install hike messenger.
14.Message To Block Contacts:
• Run dual WhatsApp
• Make group with your number and person who block you
Now you can message him/her.
With the help of parallel space which allows you run 2 WhatsApp accounts you can message to any number. Read our 15 common whatsapp tricks 2017 for more information.
15.Type in Bold, Strikethrough, and italic
This is a very cool feature by the company for heightening important line.
» For Typing in bold type content between in **, for example, *MissionTechal*
» To use Italic font add "_" around the content, for example, _MissionTechal_
» For typing in Strikethrough add "~" around the content, for example, ~MissionTechal~
» Final Words:
All the trick above for only work with current version of whatsapp. I'm not responsible for any changes in future updates of the app. I hope you enjoyed the post. Thankyou for reading this post.
ENJOY TECHALING!